Glenn Murphy and Ronan Scolard spoke to Ellen about their whirlwind week. 
The Irish singers appeared on The Ellen Show on St. Patricks Day after their medley of Adele hits went viral and they performed with the superstar in Dublin's 3 Arena.
Glenn and Ronan told Ellen about their "amazing" experience and recalled the moment Adele invited them up on stage.
Remembering the moment Glenn told Ellen: "And then the next thing we knew we were running down these flights of stairs, like five flights of stairs, I've never cursed as much in my entire life. Ronan was so cool and I was like 'oh my God oh my God oh my God!"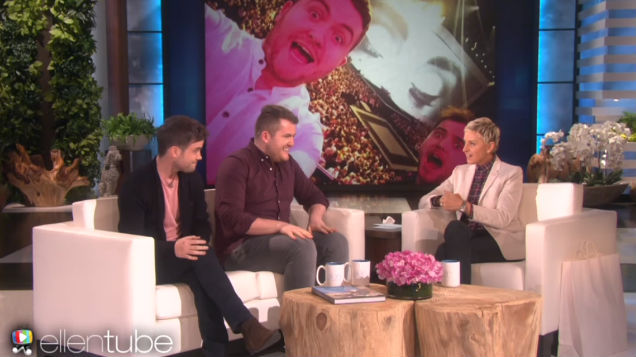 Ronan added: "I was trying to calm for the both of us I guess, being like 'right there's no time for nerves here'. But then, prior to that we had seen the likes of Bono, The Edge, Colin Farrell, Hozier, sitting in the rows just literally in front of us, and that started to sink in and I was like 'oh no, there's a need to be nervous here, this is scary'."The lads didn't let their nerves get the better of them as they brought the roof off the 3 Arena with their performance.

Speaking about Adele Glenn said: "She's amazing. What an incredible thing to do for anyone."

Ellen, who is known for her quirky gifts to her guests, also presented the boys with special tricolour themed underwear and lots of Ellen show memorabilia.

The duo also performed their stunning mashup of Adele's hits, which we personally think never gets old!

Watch their performance and chat with Ellen below!